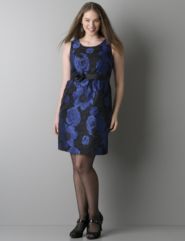 I went into Lane Bryant yesterday, to help my Soror find a dress for graduation and I simply fell in love with this blue and black floral dress! If you love vintage Jackie'O looking dress, then this is a must have!
You can keep this dress classy .....
Or you can make it a little FIERCE!!!
And you can't forget to assessorize....